Which venetian blinds are best – wood or aluminium?
People have been hanging venetian blinds in their homes since the 1700s, and for good reason. They're sophisticated and super functional and can be made from several different materials – wood, aluminium or faux wood (PVC). Which is best choice will depend on a few things we're about to explain...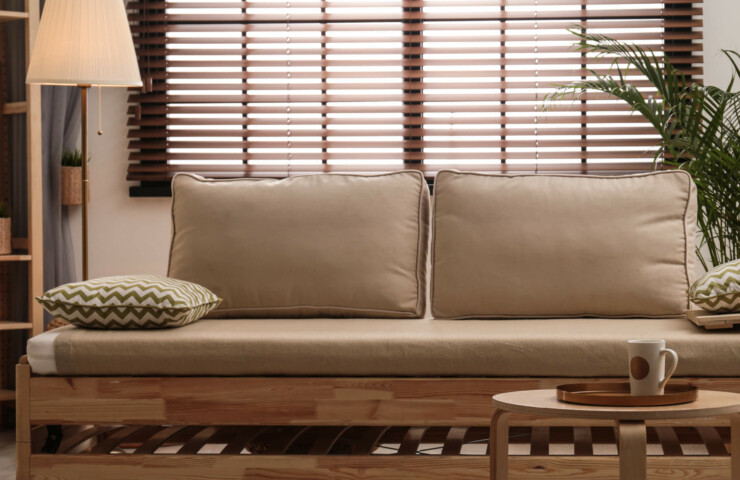 Across our entire range of venetian blinds, the adjustable slats allow you to control how much (or how little) light you let in. In the same way, this also lets you adjust how much privacy you get with slats tilted for more. There are different slat sizes available that offer different looks and the material you choose could dictate what is most feasible.
The original, the classic. There's something undeniably homely about the feeling you can create with natural wood décor. Wood is reasonably lightweight so they could work on large windows and ours have two coats of UV protection to prevent warping in the sun. It is also a more sustainable material over say, faux-wood/PVC. Wood is porous though and may warp in damp environments over time so we recommend considering aluminium or faux-wood for those rooms. Wood venetian blinds do tend to be more expensive than aluminium venetians but are rather cost comparative with faux-wood.

Available in five colours in 50mm slat size, and one colour in 60mm slat size; cord controlled only.


These are our most popular venetian blind. PVC is a safe option for kitchens as they are flam retardant and won't catch fire like a wood blind potentially could. They are also moisture resistant so a better option for damp rooms like bathrooms and laundries. Our faux-wood venetians are made from a composite material, they are fade and warp resistant. They are heavier than wood though, so if the size you want isn't doable, consider wood.

Available in four colours in 50mm slat size, and classic white in 60mm slat size; cord controlled only.
PRO TIP: white is the least prone to fading and warp recommend white if you're ever concerned about sun damage (the darker the colour, the more prone to warpage).


Perhaps the most functional of our venetian blinds, aluminium doesn't rust, can't fade, and it won't warp in the sun. They're also our most cost-effective option. Only available in a 25mm slat size, these blinds offer a visual aesthetic of more lines. This makes them a better choice for small windows where a large slat size would be too bulky.
Available in 10 colours and 25mm slat size; wand and cord controlled.
Still unsure? See how free samples look at your window
Seeing how a colour and material work in real life makes all the difference. So we've made it easy to order free samples. Find them all right here.