Curtains 101: A guide to the basics
Here's a quick rundown on all the basics you need to know about curtains.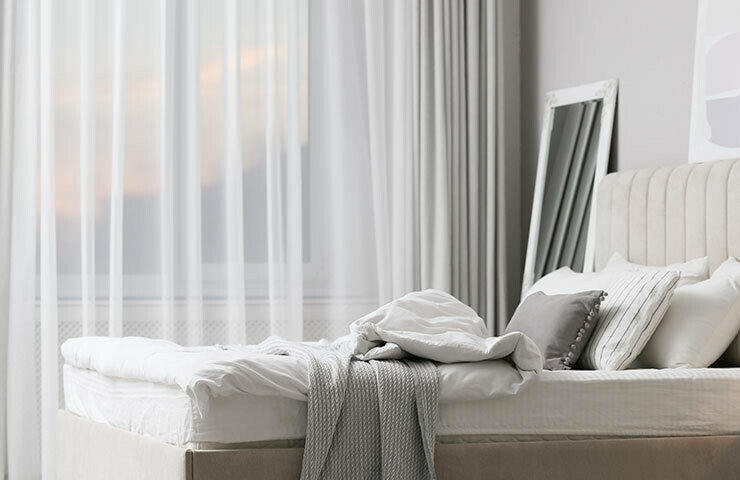 Fabric types
Each fabric type has pros and cons and best uses based on weight, it's light filtering or blocking abilities and durability. These things can also affect how it drapes.
Natural fibres are less reliable in New Zealand's humid climate and harsh sunlight so we recommend fabrics made from synthetic fibres or a blend.
Linen: a popular trendy choice but fickle option that can be expensive and not perform as well as a linen-look polyester.
Polyester: a robust and reliable choice; polyester affordable and easy to care for; great in bedrooms and living areas .
Acrylic: has a similar texture to wool, is lightweight but provides good insulation and drapes well. A better choice for hypoallergenic homes.
Voile: a crisp, open weave fabric that makes nice sheer cutains as it gathers and drapes to create a light, airy ambience while maintaining a good privacy.
How should they hang?
Down to or just below the window sill is acceptable but floor length is recommended; of which there are three variations:
Floating: a simple and sensible option with no more than 10mm between curtain and floor so it doesn't collect dust and is easy to open and close.
Skimming: just touching the floor so needs precise measuring and is better on hard surface floors as opposed to carpet.
Pooling: sees an amount of fabric (your choice) puddle on the floor at the base of the curtain to create either a very opulent or effortlessly casual look.


How wide should curtains be?
An easy rule of thumb, 2 to 2 ½ times the width of the window. Curtain panels don't look good pulled taut, they need ruffles when they're closed. The only time this isn't the case is when they're purely ornamental and you don't intend to close them. Then, 1 ½ times the width of the window will be sufficient. When you use our measuring guide we ask for just the measurements of the window and we calculate how much fabric is needed overall.


Where should curtains hang in relation to the window?
About halfway between the top of the window frame and the ceiling, and up to 150mm on either side of the window.
Pleat styles
This is how the curtain is sewn at the top and drapes in folds.
Pencil pleat: tightly gathered, a classic drape best for lightweight fabrics.
Pinch pleat: classic and economical; ideal for small spaces and patterned fabrics; available as a single pinch, double or triple.
Reverse single pleat: uses minimal fabric to create maximum fullness by hiding the pleat at the back.
Lining
Lining your curtains can dramatically improve heating efficiency, block out light and may help to reduce noise. Some of our curtains come pre-lined, others you can add the option of a detachable lining.


Using curtains and blinds together
Layering window furnishings brings more texture to a room and is also a very functional way to go, with the basic idea being you have something that filters light and maintains privacy during the day and something that maintains privacy (and blocks street light if necessary) at night. Here are some configurations:
Venetian blinds under sheer or blockout curtain
Sunscreen roller blind or sheer honeycomb under blockout curtain
Blockout roller or honeycomb blind under sheer curtains