Dual roller blinds
We've just launched our brand new dual roller blinds, and we can't wait to send them out across NZ. With a bracket that support two rolls instead of one, you can get all the function you need from the great styles we have on offer. And because they're available to order online as well, we can still keep the price as low as possible.
What are dual roller blinds?
Also known as double roller blinds, dual rollers take advantage of specially designed brackets to support two rolls. From an installation point of view, the job is still as easy as installing single roller blinds. But from a functional point of view, they – quite literally – open up plenty of opportunity.
Because dual roller blinds support two individual rolls, it's possible to pair a blockout roller blind with either a sunscreen or light filter blind. The combination lets you make the most of the day and still block out the light at night, all while maintaining privacy and warmth in your home. And because both rolls are attached to a single bracket across your window, measuring remains as simple as it's always been for our entire range.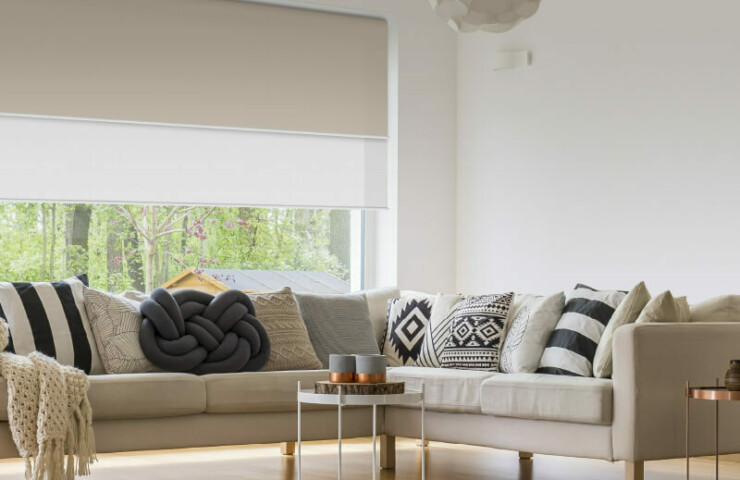 How can I use them?
With a sunscreen or light filter roller blind sitting closest to the window, you can pair it with a blockout roller blind overtop. But while sunscreens and light filters are similar, the differences between them come down to a couple of things:
Light filter roller blinds maintain privacy by letting light in without darkening a room.
Sunscreen roller blinds maintain privacy too, but they also let you see outside and are more suited to protecting furniture from UV rays (they can block up to 95% of them).
With the style of blind taken care of, the next decision is colour. And with more than 100 different options that offer thermal insulation, stylish colours and textured finishes – it pays to take a look at our range of free samples.
Do I need to know anything else?
The only other "major" decision is the way your blinds fit in the window frame. The blind closest to the glass can be fit as either as front or back roll, and this determines how close it sits. The closer it gets, the more it can insulate a room. But when you're measuring your windows, be sure to account for latches or other obstructions. If anything is in the way, it's best to choose front roll to be safe.
For info on all your options when it comes to our new dual roller blinds, the best way to find out more is to click 'customise and order' to have a go at making your blinds online. With each choice you make around size, colour and fit, you can instantly see how your budget is affected and learn about each feature at the same time. You'll honestly be a pro in no time, and you can even save your cart to come back whenever it suits you.